NYS Chinese Lantern Festival returns to Syracuse!
by Covered Wagon Tours, A Division of Niagara Scenic Tours - 1 year ago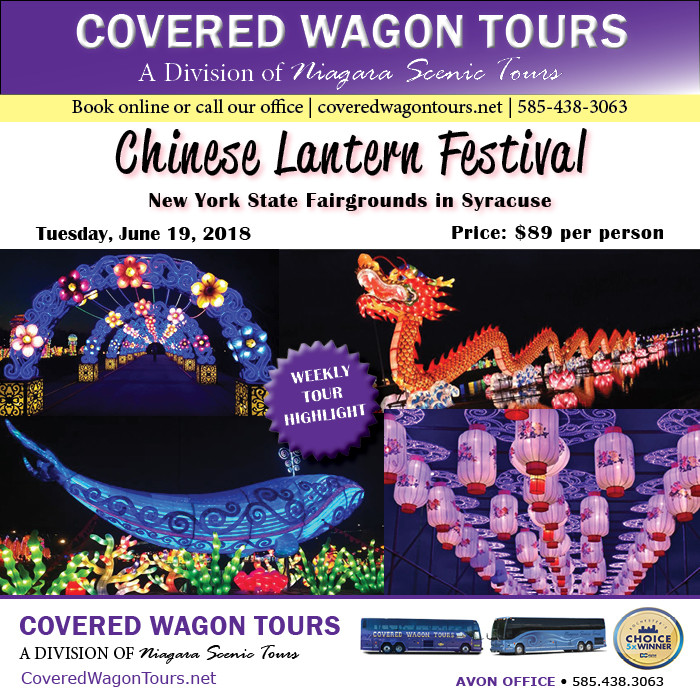 The New York State Chinese Lantern Festival returns to Syracuse, transforming the New York State Fairgrounds into a magnificent setting! The Festival will include 30 NEW displays. Each display includes hundreds of parts and thousands of LED lights. From a three-foot baby panda in Panda World to a three-story Chinese palace pagoda, 1,000 sculptural components will be created on-site by more than 30 artists from China. Welded metal frames covered in fabric will emerge as flowers, peacocks, cranes, butterflies and archways. The sculptures are LED-lit-from-within lanterns. View the craftsmanship, cultural significance and artistic beauty of these displays. Experience beautiful cultural performances and artisan crafts.
Trip includes:
·          Round-trip deluxe motorcoach transportation
·          Dinner at the Inn Between Restaurant with meal choices: 
                    (1) Stuffed Chicken Breast
                    (2) Tender Sliced Pot Roast
                    (3) Salmon Filet with lemon and dill sauce
·          Admission to the Chinese Lantern Festival
·          Services of a Covered Wagon Tour Director
·          Gratuity for restaurant waitstaff, tour director and motorcoach driver